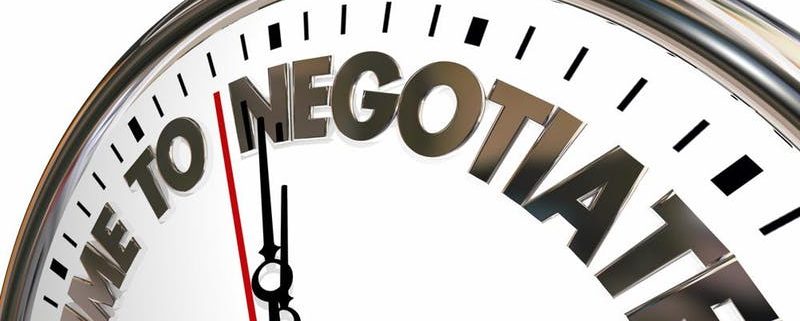 Big Negotiation Skill for Small Businesses
Thursday, February 7, 2019
8:30 AM
$25.00

Description: Business success ultimately depends upon your ability to negotiate a good deal – Period! Your marketing, branding and product pricing efforts carry you only so far. You will eventually go toe-to-toe with a potential client or business/service provider where using powerful negotiation techniques with confidence helps prevent a suboptimum deal for your company. Your small business depends on it.
Why "Splitting the Difference" short-changes you
The Negotiation Process and Power Negotiating Strategies to "Get What You Want!"
Dealing with Various Negotiating Styles and Bullies
Negotiation Pitfalls and When to Walk Away
Presenter: Irene P. Zucker
Ms. Zucker, Principle of VerbaCom® Executive Development, has been an executive consultant, course developer, corporate trainer, personal coach for 25 years. She brings her unique, dynamic style, to the public and private sectors with nationally offered courses. Ms. Zucker has a B.A. Degree in Economics / Finance, with post-graduate studies in Organizational Management (University of Texas-Dallas). She has a "Teaching Negotiation in the Corporation" (Harvard) Certificate, is a Texas Credentialed Advanced Mediator, has many leadership and training certifications, and earned extensive Six Sigma certifications. She has been recognized for her leadership and excellence nationally, in both public and private sectors, serves on dispute resolution advisory boards, and has been featured in national media, including the Wall Street Journal, and Investor's Daily.
On-line registration is required 48 hours prior to attending this class. Please register by 4:00 p.m. on Tuesday, February 5, 2019. No on-site registration will be available.
Disclaimer: The DCCCD, North Texas SBDC, Dallas Metropolitan SBDC, partners, associates, employees and the instructor of this session do not provide legal advice. The information provided in this workshop is not intended to be a substitute for advice from an attorney.
Big Negotiation Skill for Small Businesses, Thursday, February 7, 2019
Bill J. Priest – Small Business Innovation Center | Bill J. Priest – Small Business Innovation Center | 1402 Corinth Street, Ste. #1534 | Dallas, TX 75215
Thursday, February 7, 2019 from 8:30 AM to 11:00 AM (CST)
$25.00
https://www.eventbrite.com/e/big-negotiation-skill-for-small-businesses-thursday-february-7-2019-tickets-53697157644
To register or to learn more, visit the event registration page at https://www.eventbrite.com/e/big-negotiation-skill-for-small-businesses-thursday-february-7-2019-tickets-53697157644